The Rice Lake RoughDeck AX heavy capacity floor scale system includes two fully electronic, RoughDeck low profile floor scales, four on/off ramps and two signal trim junction boxes. The RoughDeck AX scale is available in a size of 32 W x 84 L x 6 H ( 81.3 cm x 213.4 cm x 15.2 cm) and each has a capacity of 30,000 lbs (13,608 kg). Once combined with the ramps, the total length is 204″ (518.2 cm).
The RoughDeck AX uses four corner-mounted, FM-approved load cells, with the cells recessed into the frame channels for protection. Also included is a signal-trim summing board enclosed in a stainless steel, NEMA 4X junction box for any necessary corner corrections. The RoughDeck AX comes pre-trimmed; so corner corrections should not be necessary.
Load cell cables are enclosed in conduit through the main channels, and held down with replaceable cable ties near each corner, eliminating the possibility of cable damage in portable applications. Because of the possibility of foot and load cell damage from forklift tines, the scale should always be lifted from above with chains through the eyebolts when setting up the scale. The adjustable carbon steel captured ball feet are used to assist with self centering the scale as vehicles drive on.  The four access ramps for the RoughDeck AX come equipped with a heavy duty treaded top plate.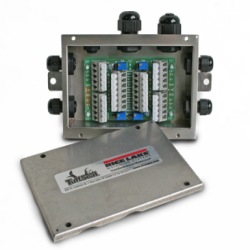 The scale must not be loaded beyond its capacity, even momentarily. Do not select a site where overweight loads would have to maneuver to avoid crossing the platform. Avoid areas where the scale might receive damaging side impacts or shock damage. Avoid areas where water may damage a scale not meant for a washdown environment.
The interface cable between the scale and the indicator must be protected against crushing, cutting, or moisture damage. If the chosen site has such potential dangers, some method of protection, such as running the cable in conduit, will be necessary. In operation, the scale must be level within 1/4 inch.  Either choose a site where the ground is close to this standard to avoid excessive shimming, or modify the ground at the chosen site to meet this standard.