When it comes to truck scales, the typical standard size is 70'x11′. Sometimes folks will buy a 70'x12′ or maybe a 80 or 100 foot long model. However, most customers do not purchase a shorter scale. Often, it can be a mistake doing that. It may not be a mistake right now… but two years from now or five years from now, truck scale buyers often regret not buying a full size truck scale. There is one main reason you may want to consider purchasing a 70-foot long truck scale instead of a shorter version.
Accommodating Longer Vehicles
The number one reason to buy a 70'x11′ truck scale instead of a shorter one is to accommodate whatever you need to weigh. If you need to weigh vehicles that are longer than the length of a shorter scale, a 70-foot scale should be able to accommodate them. This is especially important if you regularly weigh tractor-trailer rigs or other long vehicles. Nobody wants to tear out concrete and extend the length of a truck scale.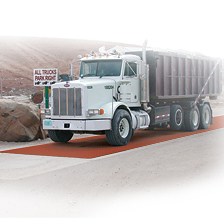 We keep mentioning seventy foot length. It's a good idea to measure any and all vehicles you will need to weigh before you commit to purchasing a truck scale. Some folks buy 80 foot or 100 foot long truck scales because of this. A little extra work now can pay off down the road.
That being said, if you've done all that, it is important to note that a 70-foot scale may not be necessary or practical for everyone. If you're a metal recycler and only need to weigh shorter vehicles, a shorter truck scale may be sufficient for your weighing needs.