Truck scales are essential pieces of equipment for businesses in industries such as agriculture, mining, solid waste, recycling, logging, and transportation. They provide accurate weight measurements for semi trucks, trailers, and other heavy vehicles, helping businesses to comply with state and federal regulations, optimize logistics, and manage inventory. However, investing in a truck scale is a large expense for many companies, and it's important to understand the factors that affect truck scale quotes so you can make an informed buying decision.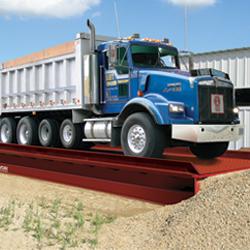 Scale Platform Size
One of the most significant factors that affect truck scale quotes is the scale's size and capacity. Truck scales come in a range of sizes, from small portable models to large fixed installations, and the cost increases as the scale's size and capacity increase. Choosing the right scale size and capacity is crucial to avoid overspending on unnecessary features or purchasing a scale that can't handle your business's needs.
The majority of truck scales that we see on a regular basis have a weighbridge length around 70′ long, with a few 80′ and 90′ long truck scales as well. Capacity of a standard above ground truck scale is usually around 120,000 lb.
Scale Technology
Another important factor to consider is the scale technology. There are mechanical and electro-mechanical truck scales that are still around… but most customers in the twenty first century are choosing electronic above ground truck scales. You typically can choose from hydraulic load cells, digital load cells, or analog load cells.
Site Prep
The site preparation and installation costs are also significant factors that affect truck scale quotes. An above ground truck scale requires a flat, level surface, a sturdy concrete foundation, and appropriate drainage to ensure accurate measurements and long-term durability. Site preparation can involve excavating, grading, and pouring concrete, which can add to the overall cost. Installation costs will likely include labor, equipment rental, concrete, and transportation, depending on the scale's size and location. One possible way to save money when purchasing a truck scale is to handle the site prep and concrete foundation yourself.
Scale Manufacturer & Distributor
Another factor that can affect truck scale quotes is the scale manufacturer and the local scale company. Different manufacturers and suppliers offer different products, pricing, warranties, and support services, and it's important to research and compare multiple options before making a purchase. Many companies offer truck scale buying guides. Some manufacturers may offer different technology, customization options or special features that can add to the cost, while others may have limited availability or longer lead times.
Scale Maintenance
Finally, the maintenance and calibration costs should be considered when calculating the overall cost of a truck scale. Regular maintenance and calibration are essential to keep the scale accurate and reliable, and they can extend the scale's life and maybe even prevent costly breakdowns every now and then. Maintenance costs may include scale checks and replacement parts and testing and adjusting the scale's accuracy with certified weights periodically.
Understanding the factors that affect truck scale quotes can be very helpful when you're in the market to purchase a new truck scale. As you can imagine, scale weighbridge size is a key factor when looking to purchase a truck scale. But other things are important too. Things like load cell technology, site preparation and installation, manufacturer and supplier reputation, and regular maintenance and calibration are also key factors that can affect the cost and overall value of a truck scale.