We're just about ready to head into the busy summer months. In a lot of cases, it is also a busy time for your truck scales. Spring is the best time to get the following maintenance done, because all the melting snow (in some areas) creating running water, mud and muck can wreak havoc on your truck scale operations; washing debris into pits and foundations, and damaging equipment. Not to mention the critters who have taken up residence over the long winter. We recommend completing the following steps in late spring to ensure you are up and running in time for the busy summer season.
Topside Housekeeping
Take a walk around the outside of the truck scale. Examine the entire deck, scale pit, foundation and approaches for any major structural or surface problems. Scale owners with scales that have any deterioration need to fix them right away.  Any deck and approach repair is not merely cosmetic; those damages will have a negative effect on the scale.  Flaking rust and crumbling concrete falling into the pit will add maintenance costs now, but in the future they will reduce the scales' usefulness.
Check Deck Clearance
If you have a pit scale, while still outside the pit, use a crowbar to check the weighbridge for free movement both with and without a vehicle on the scale. If binding seems to be an issue, check the pit wall-to-deck clearance. If clearance looks good all around, with no debris between the walls and the deck, you've done all you can topside. The binding problem is coming from below. Get your boots, gloves, hornet spray and lights, and get ready to head into the pit to look things over (or better yet, call your scale guy instead). Just remember to check the oxygen level in the pit before you climb down in the pit.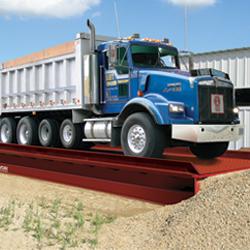 Keep it Clean Under the Truck Scale
The most common cause of incorrect weighments is debris in the pit binding movement. Clean all dirt from each component. Remember, even though most scales these days are electronic, they still have moving parts underneath. Load cells still need to be able to deflect through their capacity range. We recall the story we heard recently of a customer requesting a service call to figure out what was causing his scale to weigh incorrectly. It was a pretty urgent situation because the scale had been red tagged and his whole business was shut down while they tried to figure out the problem. Well, the service guy soon discovered the problem – a single piece of gravel wedged between the weighbridge and side of the foundation!
To cut down on future problems, the scale owner needs to invest in flexible T-Grip or T-Strip molding. These moldings, while being flexible enough to work with the movement of the scale, will keep debris from causing problems and eventual damage to the truck scale. Depending on the scale design, the molding might only be necessary to cover the end gaps where the trucks enter and exit the scale. Scales weighing open trucks or messy operations will also need side molding to protect against spillage falling into the pit.
Load Cell / Lever Hybrids
When you have a hybrid lever scale converted to digital readouts with an S-beam load cell, you need to check a few more items during the inspection.  Replace any damaged load cell cables rather than splicing them. Cable splices are prone to moisture entry, leading to a new host of problems. For further moisture safeguards, replace j-box desiccant, or fill the box with Waterguard Gel.
If rodent or radio frequency interference are problems, switch to a cable offering both rodent protection and EMI/RFI protection.  We recommend the EL147RP load cell cable. For protection against rodents only, run the cable through conduit or in the Rice Lake SURVIVOR Cable Armor.
Finally, get a complete scale calibration with certified test weights with proven accuracy.  Actually, your best choice is to set up a quarterly service agreement with your local scale company.  They have the expertise and equipment to keep your truck scale running smooth year round.  In central North Carolina, the choice would be Central Carolina Scale out of Sanford, NC.