Over the past few years, we have received numerous questions and inquiries about truck scales and vehicle weighing related items. So, we thought it would make a perfect article called Most Frequently Asked Questions About Truck Scales. Below is a summary of the top questions that we have received along with some basic answers to assist you.
What is a Truck Scale and How Exactly Does a Truck Scale Work?
Truck scales are industrial scales built to weigh vehicles. The most common use of a truck scale is to determine the weight of bulk goods being bought and/or sold. You may have seen this mentioned before but in many cases, a truck scale functions figuratively like a cash register for a company. In addition to commercial use, many states use truck scales to check for a truck's compliance with truck weight limits. The vehicle scales are very popular at feedmills, solid waste processing and metal recycling centers, etc….
As for how a truck scale works, basically you start with a foundation. This is normally a concrete foundation that the truck scale will be anchored to. The actual scale platforms are anchored onto the foundation. There are usually multiple platform modules connected to make up a 70 foot long truck scale. Inside of these modules are load cells. These are the sensors that measure the weight when you drive up on the scale. These can be analog, digital or hydraulic. The weight is then displayed on the digital weight indicator.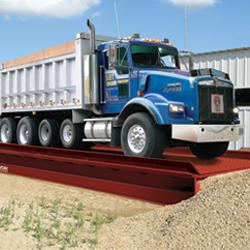 How Much does a Truck Scale Cost? Should I Buy a Used Truck Scale?
This is a question that we have tackled before! This number has changed obviously over the years. At the time of this article, the typical truck scale costs are probably near $75,000 or more when you factor in all the various expenses. Remember, this estimate can fluctuate. For example, there have been multiple price increases during the past twelve months.
Regarding used truck scales…. In most cases, we are against buying used truck scales. The reason is these are weighing devices that have 80,000 lb vehicles driven over them constantly and endure all that Mother Nature can throw at them…. year after year. A lot can happen to a truck scale that's been in use out in the elements for an entire decade.
That being said, sure there might be some good deals on a "low mileage" or "hardly used" used truck scale, but in our opinion, the best long term decision is to buy a brand new truck scale that you hopefully will get to use for two or three decades.
What is the Average Life Span of a Truck Scale?
In our opinion, most truck scales should last around 25 years. However, a lot depends on choosing a quality scale and one that is matched to the amount of truck traffic you expect. Weather elements can also factor into longevity as well. This is where consulting with your truck scale sales person can be a huge benefit when shopping for a truck scale..
All things being equal, a truck scale that weighs a couple of hundred trucks a day is going to wear out quicker than a truck that only weighs a handful of trucks a day. This is an important question and one that you need to discuss with the scale company(s) that you are working with when shopping for a truck scale.
How Accurate is a Truck Scale?
If you buy or sell goods based on the weight of the truck scale, accuracy is critical. Profit, Inventory Levels, and much more are at stake! On a typical 120,000 x 20 lb capacity truck scale, we typically tell folks the accuracy of your truck scale should be somewhere in the neighborhood of 0.1 of one percent.
How Long is an Average Truck Scale?
Most folks weigh typical trucks with trailer. The majority of the time, that means a 70 x 11 truck scale is typical. However, we have seen 80 foot long truck scales or longer utilized. You want to make sure that you choose a vehicle scale that will allow you to get all the tires on the weighing platforms. This is an important subject to consider when choosing a truck scale.
What is a Load Cell & How Many do I Need?
A load cell is the item(s) in a truck scale that measure the weight being applied. Most truck scales require ~ 8 load cells. In most scales, the load cells are wired through the scale platform & summed together in a junction box.
What is a Junction Box?
A j-box is a box with a summing card inside. Usually anywhere from (4) to (8) load cells are connected to the summing card inside the junction box. The card can then be adjusted by the scale technician when calibrating the scale. The signals of multiple load cells are adjustable and then once they are fine tuned, are capable of being wired to the digital weight indicator via the homerun cable.
Should I Purchase a Steel Deck Truck Scale or a Concrete Deck Truck Scale?
Steel deck truck scales have a quick installation time (usually one day) and they are lighter weight. This also is a benefit if you ever need to move or sell the truck scale, years later.
Concrete deck truck scales have a much longer installation time overall since the concrete must cure. The scales are also much heavier which can make moving them or selling them more difficult. On the plus side, a concrete deck typically has better traction than a steel deck.
So, ultimately either choice of industrial scale can be a good one. It depends on what your particular needs are and what your future plans might be with the scale.
I Keep Reading About Lightening. How can I protect my truck scale from lightning?
Most truck scale manufacturers offer weighing scales with grounding and industry standard protection which in most cases involves a single point grounding system with surge protector. This is an ongoing area where manufacturers are working improve their products for better protection. We've seen better protection being introduced for load cells and summing boards for example.
How Much Truck Scale Service Maintenance is there? How Often Should I Calibrate a Truck Scale?
With an investment like a truck scale, it makes good sense to have the scale checked & calibrated on a regular basis. Generally, we suggest that truck scale owners have their scales checked anywhere from twice a year to four times a year. Also, the scale owner can do a few things as well throughout the year like keeping the scale underside clean and debris free since buildup under a truck scale is a very common problem.
Another to consider when determining calibration frequency is how many trucks per day are weighed on the scale and the dollar value of what you're weighing. If your 120,000 pound capacity truck scale is off just a hundred pounds, it can mean thousands of dollars of profit loss and/or a safety hazard. So basically if your truck scale weighs a lot of trucks every day, then you should consider a regular quarterly calibration program with your scale company.
We hope this article helps you to make an intelligent scale purchase. The truth is, there are numerous scale companies located throughout the United States that employee very smart and talented scale professionals who can work with you to recommend a great scale for your weighing needs. As for the scale manufacturers, there are multiple high quality scale manufacturers in the United States who build very good truck scales.