Cardinal Scale Manufacturing Company recently announced the launch of their new web site dedicated to the company's weigh-in-motion highway systems.
The new weigh-in-motion highway systems web site features Cardinal Scale's complete product line for this vertical market, including quartz sensor-based in-motion scales for full highway speed weighing, slow-speed in-motion load-cell based scales, virtual weigh station software, custom systems, optional peripheral equipment, and also static scales for commercial weigh stations.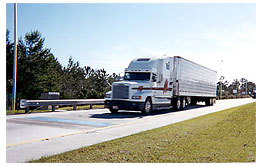 The web site uses adaptive response technology, so the screen formatting will change based on the device it's being displayed on whether it's a PC, tablet, or smart phone. Cardinal Scale began developing and manufacturing in-motion vehicle scales in the late 1990s and today the company has grown to offer a number of commercial enforcement in-motion weighing systems that can be found across the U.S. as well as in South America, the Middle East, and the Far East.
Web Site Features:
WIM Products and Services
Highway System Layout Diagrams
Virtual Weigh Station Demo Video
Frequently Asked Questions
Request a Quote
If this is a product that interests you, check out the new site at http://www.wimscales.com