Purchasing a truck scale is a big investment. We've discussed how much one of these scales costs. But, you also want to make sure that your new vehicle scale is taken care of. Likewise, when shopping for a truck scale repair and calibration company, there are several factors to consider. Below are the top five things to look for when searching for a local truck scale repair and calibration provider?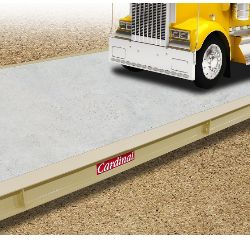 #1 Expertise
Look for a scale company with a track record of expertise in repairing and calibrating truck scales. This may include scale technicians with factory training, as well as a history of successfully repairing and calibrating a variety of different brands of truck scales.
#2 Range of Services
Consider whether the scale company offers a full range of services, including repair, calibration, and maintenance. Also be sure they have a test truck and cart specifically designed for checking truck scales. It is also a good idea to look for a scale company that offers emergency scale repair services, in case you experience a problem with your scale outside of normal business hours.
#3 Customer Service
You want to choose a scale company that is responsive to your needs and provides excellent customer service. This may include answering questions and concerns promptly, providing clear and transparent pricing, and being flexible and accommodating to your schedule among other things. It's also important that they stock spare parts for your scale too.
#4 Scale Repair Prices
The cost of scale repair and calibration service can vary pretty significantly from one company to another. It is important to understand the hourly rate charges, mileage charges, replacement parts prices (and availability) etc…
#5 Location of the Scale Company
Consider the location of the scale repair and calibration company, as well as their availability to service your scale. It may be more convenient to work with a company that is located nearby, but it may also be worth considering a company that is further away if they offer better prices, replacement parts that are in stock, etc…
The best scale repair company often comes down to relationships. Customers need to feel that the scale repair company understands them. What replacement parts are needed? What kind of service fees are there? Can we set up a service agreement so the scales are checked on a regular basis? Those are some of the things that are important in addition to the top five things to look for when searching for a local truck scale repair and calibration company.