When choosing a heavy capacity truck scale for your business, there are many factors to consider. Of course, we've discussed most of these over the years. But, I'm not sure that we've ever compiled a complete list in one entry. So, there are the Top 8 factors that you need to focus on when looking to purchase a truck scale.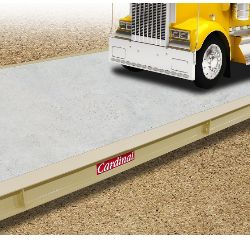 Truck Scale Accuracy
It is important to choose a truck scale that is highly accurate, as the scale will be used to measure the weight of vehicles and their cargo. Look for a scale brand that is accurate and has a reputation for accuracy and reliability. On a related note, most truck scales use a 20 lb graduation size. You might discuss the options available for a 10 lb graduation size.
Maximum Weighing Capacity
Make sure that the vehicle scale has a high enough capacity to accommodate the weight of the numerous vehicles that will be using it on a daily basis. This is especially important if you will be weighing heavy trucks or vehicles with large loads.
Durability of the Truck Scale
Truck scales are subjected daily to heavy loads and harsh weather conditions, so it is important to choose a vehicle scale that is built to withstand these conditions. Look for a scale with robust construction, including a sturdy weighbridge and reliable strain gauge load cells.
Truck Scale Platform Sizes
The size of the platform should be large enough to accommodate all the vehicles that will be using the scale. If the platform is too small, it may be difficult for the vehicles to be weighed accurately. Most customers choose popular truck scale sizes like 70′ x 11′ or 80′ x 11′ for example.
Truck Scale Load Cells
There are several different types of load cells used in truck scales, including hydraulic, digital, and analog. Each type has its own advantages and disadvantages, so it is important to choose the one that is best suited for your needs. Be sure to discuss truck scale technology with your local scale company who is supplying you with the scale and the scale calibration.
Ease of Truck Scale Installation
Be sure to put some time and thought into the truck scale layout. Consider the location and surface where the scale will be installed. The concrete foundation will need to be installed in a large and flat area with plenty of room. A scale that's easy to install will allow the scale company to install the scale in several hours and allow you to be weighing. Some scales may require special foundations or concrete work.
Ease of Maintenance
Truck scales require regular maintenance to ensure that they are accurate and in good working order. Regular scale checks and regular scale cleaning (removing buildup under the weighbridge) can extend the life of your scale. Choose a scale that is easy to maintain and has readily available parts is a wise decision. Be sure to discuss this subject in more detail with your scale company that you are working with.
Price of a Truck Scale
The price of a truck scale can vary significantly, so it is important to consider your budget when making your buying decision. We recommend that you find a scale company or two that you trust and has experience with truck scales. It's one thing to sell a truck scale. It's another to actually listen to the customer and recommend the best truck scale for their particular weighing application.
Well there you have it. A list of things to look for when choosing a truck scale to purchase for your business. We wish you the best of luck in your search. Be sure to contact us if you need recommendations or advice.