Purchasing a truck scale can be a challenging project. There are numerous options to consider. Most can be added later if needed, while others can not be added after the fact. Much like choosing options for a new computer, your truck scale can be customized to fit your specific needs and requirements.
Listed below are a number of standard options to consider when ordering your new truck scale. (Curious about truck scale prices?)
Sight Rail / Guide Rail for Truck Scale
Sight rail is an extremely common option to include with a truck scale purchase. The pipe rail is used as a visual guide to help vehicle drivers stay centered as they enter onto the scale. For most commercial and industrial truck scale installations, standard 8" tall sight rail is a common choice.
For most aggregate and mining type weighing operations, 24" tall double pipe sight rail is required for safety. The sight rail assemblies are bolted to the weighbridge so they can be added in the future or easily replaced if damaged by a vehicle.
Sight rails can be customized with handrails or gaps in specific locations along the scale length to avoid hopper supports or other structures very close to the scale weighbridge.
Remote Display for Truck Scale
Large, bright outdoor mounted weight displays are known as scoreboards or remote displays. A scoreboard is placed near a truck scale within the driver's sight so they can verify the scale reads zero prior to entering and verify gross vehicle weight prior to exiting the scale platform. Remote displays are available in a wide array of digit sizes with 4" versions being the most popular.
In fact, some state's Weight & Measures departments mandate the use of a scoreboard next to a truck scale. Scoreboards can be hard wired to the scale weight indicator located in the scale house or connected wirelessly. Another useful feature that can be built into the scoreboard enclosure is a red/green signal that can be used for traffic flow control.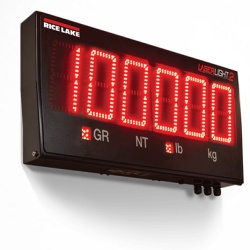 Truck Scale Ticket Printer
Another popular option to consider for your truck scale is a ticket printer. We have several to choose from and they allow you to print out the gross, tare, and net weights of the trucks that you are weighing.
Riser Blocks for under a Truck Scale
In some industries and geographic locations, under scale clearance is very important for ensuring a truck scale remains operational for long periods of time.
Aggregate and mining type applications may want increased under scale clearance to prevent build-up of materials under the scale. The build-up may cause the scale to get bound up or impede accurate weighing, especially in cold weather climates.
The extra under scale clearance allows for easier cleanout of built-up debris. The extra clearance is also good for on-scale filling applications such as asphalt where spills and over-fills are possible. Snow and ice in some areas warrant the use of riser blocks to reduce the possibility of winter scale freeze-ups.
Digital Technology
Digital truck scales and digital conversion boxes both provide distinct advantages that increase efficiency, calibration, and diagnostic information communication. What are the advantages for both and how do they provide more value for those willing to make the switch to these invaluable truck scale technologies?
Catwalk Stairs for Truck Scale
Catwalk can be added to virtually any truck scale weighbridge. Catwalk can be as small as 60" in length all the way up to the full length of the truck scale on one or both sides of the platform. Catwalk can attach to the side of the scale hanging on the sight rail or be mounted on the ground next to the scale. Catwalk is a way to safely enter or exit a scale platform with stairs and handrail features.