Cardinal Scale Manufacturing recently announced the official launch of the new ARMOR® series digital truck scales with SmartCell® load cells that offer unmatched performance built to last a lifetime of heavy-duty weighing use. Every facet of the digital truck scale weighbridge and electronics have been specifically built for long-lasting endurance, minimal upkeep, and IoT monitoring convenience. Deliveries are scheduled to start in January 2018.
ARMOR® truck scales feature a heavyweight 50-ton CLC, no moving parts below the scale deck (including the load cells), more structural steel than the competition, SmartCell® stainless steel waterproof digital load cells, and IoT-enabled iSite remote monitoring software.
The state-of-the-art, debris-inhibiting axis load cell stand design limits obstructions to the scale's performance with the digital load cells mounted high within the stand near the scale deck. The load cell stands are fabricated from one-inch-thick steel to minimize rust and corrosion damage and ensure long-term strength and durability. The long-lasting baked-on tan powder coat paint finish ensures a lifetime of trouble-free protection. The Cloud-based iSite remote monitoring software offers e-mail and/or text alerts to ensure your scale is performing at all times.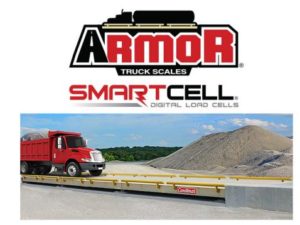 ARMOR® steel deck weighbridges utilize a tight concentration of 7.5-inch I-beam spacing which minimizes unsupported deck plate area and ensures that truck tire contact patches are always directly supported by one I-beam. Four rows of welded stiffeners provide maximum structural rigidity and safeguard against I-beam deflection under loads for optimal strength and longevity.
Cardinal Scale's SmartCell® digital load cells are the newest solution in advanced load cell technology. Messy, time-consuming wiring is no longer necessary, since cables connect plug-and-play to the cell through metal braided rodent-proof cables. Internal cell circuitry eliminates the need for a junction box.
The ARMOR's SmartCell® load cell pockets are surrounded on both sides by I-beams which run the entire length of the weighbridge. This alleviates any potential structural weakness around the load cell region like in competitors' truck scales. The no-bolt bridge connections feature interconnecting load blocks and receivers welded directly to the I-beams for strength and durability.
Contact your local Cardinal Scale dealer today to begin taking advantage of the entire gamut of new features and functions of the Cardinal ARMOR® digital truck scale!